International exchange and interaction in music
Responsive music export from Västra Götaland, Sweden.

We are a booking agency for some of western Sweden's most exciting and innovative musicians. We are particularly focused on international relations and interact with festivals, venues, agents, managers, promoters and individual musicians worldwide. We wish to build strong networks, to develop and manage concert exchanges between Sweden and other countries, spread and get inspired by live music.

WELCOME TO MUKO!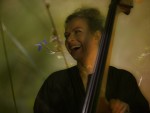 Tormis Quartet & Mingo Rajandi Quintet

Nefertiti jazzklubb
6 augusti 2019 kl.16:30-20:00

Part of Gothenburg Culture Festival - admisson free!


Estonian composer Veljo Tormis (1930-2017) was one of the main choral composers of the 20th century in Europe. The great majority of his works are based on ancient Estonian folk songs. Singer Kadri Voorand and guitarist Jaak Sooäär have sung songs by him in choirs since early age and have always fanned his music. As a part of the celebration of the 85th birthday of Veljo Tormis, Jazzkaar festival proposed a concert consisting of his music in a jazzy context for which Voorand and Sooäär were joined by singer Liisi Koikson and guitarist Paul Daniel. As the debut went very well, the four musicians decided to continue as a group and have performed at all main folk and jazz festivals in Estonia and also in UK, Israel, Germany, Hungary and Finland. In spring of 2018 the quartet released their debut album "Tormisele/Hommage To Veljo Tormis" on German label Nordic Notes. The quartet also received the Estonian Folk Grammy as the best new group in 2016.

Mingo Rajandi is an artistic director, composer and double bass player. With degrees in theatre studies, jazz performance and contemporary composition from the Estonian Academy of Music and Theatre, Mingo's rich and multilayered music underpins her fascination with language and international literature, often leading to collaborations across artforms. She has has written 12 works for Avarus Ensemble, among them commissions from Nargen Festival, Glassperlenspiel Festival and most recently from Estonian Music Week. Now she brings her newly formed quintet to Gothenburg for a unique concert.
MUKO has started a new collaboration with Rosetum jazzfestival in Milano, Italy. Corpo made a memorable concert there in november 2018, and we are looking forward to future exchange projects.
We are proud to announce that on the the 3rd-8th of October our group Kaja is invited by Jarasum International Jazz Festival for showcases, concerts, TV shows and magazine interviews! MORE INFO ABOUT JIJF
Läs hela inlägget »