International exchange and interaction in music
Responsive music export from Västra Götaland, Sweden.

We are a booking agency for some of western Sweden's most exciting and innovative musicians. We are particularly focused on international relations and interact with festivals, venues, agents, managers, promoters and individual musicians worldwide. We wish to build strong networks, to develop and manage concert exchanges between Sweden and other countries, spread and get inspired by live music.

WELCOME TO MUKO!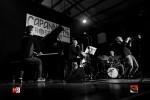 Lorenzo De Finti Quartet

MUKO proudly presents the Italian renowned piano player Lorenzo De Finti and his quartet. They have recently released the album "Love unknown" and are coming to Sweden for short visit in October. Don´t miss it!
"a delivery from four outstanding musicians; pure poetry without words. "
Lorenzo De Finti – Piano
Stefano Dall'Ora – Bass
Gendrikson Mena Diaz – Trumpet
Marco Castiglioni – Drums

24/10 Clinic Göteborg, Academy of Music
24/10 kl.19 Borås, Wärenstams
25/10 kl.12 Halmstad, Nissanscenen
25/10 kl.23 Göteborg, Hagakyrkan, Kulturnatta
MUKO has started a new collaboration with Rosetum jazzfestival in Milano, Italy. Corpo made a memorable concert there in november 2018, and we are looking forward to future exchange projects.
In July 2014 New Tide Orquesta were touring in Brazil as part of an exchange project. Friday 13th of May NTO released their 7th album "LIVE IN RIO"! A live concert, 13 tracks 63 minutes, with music from our last two albums, complete with improvisations, noise, distortion, applauses and baby cry.
Released Friday 13th May!

More info: www.newtideorquesta.com
Läs hela inlägget »
Last week Kaja just arrived back home from a tour in Netherlands together with the trio Tango Extremo. The project is a collaboration between MuKo (SE) and Stitching Musica Extrema and JWA Jazz and World Music Agency (NL). In November the two groups will tour togehter in Sweden.
Läs hela inlägget »